Friday, June 18, 2010
8:20 AM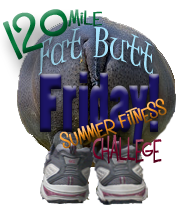 Well, I am about 2 weeks late in telling you about this, but I thought I would anyway! Cat over at
4 Nuts in a Nutshell
is doing a great summer challenge. It is a 120 mile walk or run challenge, and I have decided to take the challenge. After all, we walk to the lake near our house (3 miles round trip) as a family 3-6 times a week, so this should be easy, right?
Well, so far not so much. Yesterday was the end of week 2 and at this point I should be at 20 miles to be on schedule. I fully expected to be ahead of the game. As it turns out, I am behind at a mere 17 miles...dang...
SO, this is where you great readers come in...I need to be held accountable for my walking. So far I have been out of town week 1 and sick most of week 2 which are my excuses for being behind, but excuses will not help me accomplish the challenge. So, I am going to give you an update of my progress each Friday to try to be more accountable and motivated. If anyone is doing this challenge with Cat, or if you want to just jump in and do it as a support to me, you can leave your progress and updates in comments.
Come on, let's get moving!!
Thanks
Cat
for doing this challenge and getting my butt in gear! And thanks in advance to my readers for helping me stay motivated!
Right now I walked 11 miles this week which brings my total to 17 miles for the challenge overall.

Labels:
120 Mile challenge
,
Nuts in a Nutshell